Yesterday you said you'd start tomorrow, the time is now, Lets makeup our mind and start this new year with new goal, lets 2015 be the fitness year for all of us, you can start right from your living room, it's only 20 minutes, and it requires no equipment.  So no matter where you are, you can fit in a sweat session.
Try this quick Home high intensity interval training (HIIT) to blast calories and tone the body quick, It is a great way to get maximum benefit from a routine in minimal time.
Do this workout in the morning and you'll be energized and empowered throughout your day.Time spent working on your health and happiness is never time wasted; make it a priority!
Instructions:
Start your workout with 3 to 5 minutes warm-up and proper stretching
Perform each exercise as fast as possible for one minute (or as many reps you can do in one minute) rest if needed
After you finish the whole circuit, rest for 1 minute, and then repeat the main circuit
Do 3 to 4 set of each workout, Beginner can start with 30 second and 30 second rest
Finish off your fat-blasting session with the cool-down and stretching.
Body focus: total body
Duration: 20 minutes of your day
Equipment: no equipment's
Requirement: A good pair of shoes and a sturdy floor
workouts:
Jumping jack:

Jump off the balls of your feet as you perform this classic exercise. To modify, step the legs wide and then step them together instead of jumping. jumping jacks not only increase your heart rate, but also provide a full body workout, as all your major muscle groups are used.  Target: quads, glutes, hamstrings and core                                      
 

Burpees:

(its killer cardio workout), burpees are full body workout ,Stand with your feet hip width apart and your arms down by your side,Land in a deep squat position, bringing your hands to the floor. Jump your feet into a plank. Jump your feet back toward your hands,jump straight up with your hands behind your head. and repeat cycle by jumping up.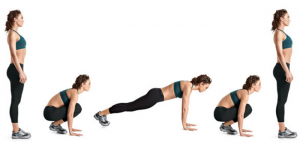 High knee run:

 stand tall with your feet shoulder width apart,With elbows bent to sides and hands parallel to the floor, run in place, bringing your knees up to your chest as high and as fast as you can.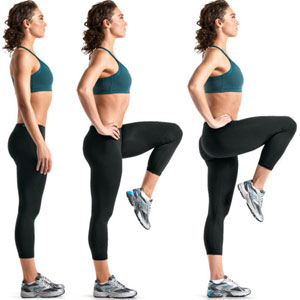 Jumping squats:

 Squat is compound full body exercise, that train primarily muscles of thighs, hips and buttocks, quadriceps and hamstrings. How to do;  Stand with your feet shoulder-width apart, start by doing regular squats,From a squat position, jump as high as you can, landing back into a squat position. Keep your core tight and back straight in this workout.Make sure to use your whole foot to jump, not just your toes.
Don't forget to cool down and stretch for 3 to 5 minutes.
 P.S  STAY HEALTHY STAY BLESSED