Smoking hookah/shisha has become a latest trendy pursuit among youngster, and it is considered a fast growing fad among different age brackets. shisha bars and lounges are becoming more and more popular across world. If you think smoking shisha is the perfect healthy way to unwind  an evening, after a long day, or shisha is better and healthier than cigarettes, and it's completely safe, non-addictive and risk free practice, think again!!! however, it couldn't be further from the truth. shisha smoking can be as damaging, addictive, and as dangerous as cigarettes. So whoever is thinking that shisha smoking is safer than cigarettes, they need to get out of this misconception.
"Research shows that shisha smoking is more dangerous than cigarette smoking"check out why and how………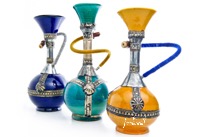 What is shisha smoking?
Shisha smoking – also called hookah, narghile, goza, water pipe, or Hubble bubble smoking – is a way of smoking tobacco, mixed with fruit or molasses sugar, through a bowl, smoking chamber and hose or tube.
Shisha uses tobacco sweetened with fruit or molasses sugar, which makes the smoke more aromatic than cigarette smoke. Available in different flavour include apple, plum, coconut, mango, mint, strawberry, lemon, grape, and cola.
Specially made flavoured tobacco is heated, Wood, coal, or charcoal is burned in the shisha pipe to heat the tobacco and create the smoke, and smoke passes through water and is then drawn through a rubber hose to a mouthpiece and inhaled slowly and deeply.
Shisha smoking is traditionally use by people from middle east and Asian community but its becoming increasing popular among all group specially in major cities all over world, It's quickly becoming a first-choice leisure activity for more and more people.
 Why it's dangerous and harmful?
Shisha tobacco contains cigarette tobacco, so like cigarettes it contains nicotine, tar, carbon monoxide and heavy metals, such as arsenic and lead. As a result, shisha smokers are at risk of the same kinds of diseases as cigarette smokers, such as heart disease, cancer, respiratory disease and problems during pregnancy
 "shisha smokers are exposed to more carbon monoxide and smoke than cigarette smokers."
  When you smoke shisha, you and anyone sitting near you are breathing in smoke, which releases toxins including carbon monoxide and heavy metals –reducing your body's ability to carry oxygen around in your blood     
How it's more harmful then cigarettes?
The average sheesha-smoking session lasts an hour and research has shown that in this time you can inhale the same amount of smoke as from more than 100 cigarettes. (I am sure u cant finish 100 cigarettes in an hour, think again!!!)
In one puff of shisha you inhale the same amount of smoke, as you'd get from a smoking a whole cigarette.
Shisha smoke contain more carbon monoxide, nicotine, chemical, and smoke than cigarette smoking.
Shisha smoke poses dangers associated with secondhand smoke.
Shisha smoking by pregnant women can result in low birth weight babies and birth anomalies.
Shisha pipes used in shisha bars and cafes may not be cleaned properly, risking the spread of infectious diseases, such as hepatitis, herpes and tuberculosis,
MYTH# Herbal or Fruit shisha is healthier than regular shisha?
ohhh really!!!!!  i mean No it isn't. Shisha, herbal or otherwise, usually contains tobacco. Fruit or herbal flavors do not mean the product is healthy. Even if you use tobacco-free shisha, you're still at risk from the carbon monoxide and any toxins in the coal or charcoal used to burn the shisha.
shisha is tobacco and nicotine free? Just like regular tobacco, Shisha contains nicotine. In fact, in one hour Shisha session, smokers are exposed to 100 to 200 times the volume of smoke inhaled from a single cigarette. shisha and cigarettes produces almost same level of nicotine, infact shisha users uses best tobacco which has higher level of nicotine.
"If you smoke Shisha because of particular flavour, then you can enjoy the flavour in the form of ice-cream or fruit juices rather than inhaling in your lung with so much toxins and carcinogen."
"lets learn to Love ourself and quit smoking, we have the power to make  a difference."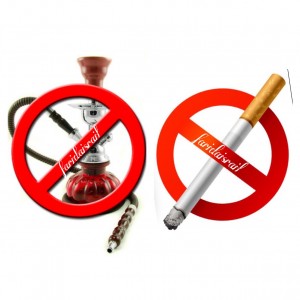 Whether it's cigarettes or shisha, smoking still remains the number one cause of preventable death.
Protect your health and stay away from smoking (cigarette or shisha)
 P.S Stay healthy stay blessed