Holidays are just around the corner, while it may mean to some relaxing and sleeping in for an extended period of time which goes without a say, but for many, it means traveling or a simple road trip. Most people would agree that when filling up their bags or suitcases for a trip, it is often best to pack light. But it doesn't mean that you should withhold on basic necessities such as hygiene products, even though they can add up quickly and take up lots of space, especially if your planned trip is more than just a long weekend.
In addition to travel toothbrushes, other on-the-go dental hygiene products consist of mini-toothpaste, mini-mouthwash, and mini-floss. All of which can be purchased at the convenience stores and sometimes even be acquired for free during a trip to the Dental Clinics here in Dubai.
Practicing good dental hygiene while on the road can be difficult. So why not make it easier on yourself by planning ahead of time and to create a great, compact travel hygiene kit. Between finding restaurants and bus stations and Visiting museums and seeking out places to relax, a person can understandably become completely side-tracked, and often dental hygiene slides to a corner.
Therefore, It's advised to Visit a Dentist prior to your travel you can book an appointment at DUBAISMILE to get a checkup before you hit the road.
Sometimes you might have to improvise when you do not have your travel kit for oral care with you or you may find yourself in certain circumstances where it wouldn't really be appropriate to brush your teeth. At times such as these, it comes in handy to know a few things about keeping your breath fresh while on the road.
If you are concerned about your dental hygiene, it is of utmost importance that you brush after meals. If you are on the go, traveling to a vacation spot, camping or just for the sake of a simple road trip, then it is really important to bring a toothbrush along. Some of the things you would want to include in your travel kit to maintain a good Dental Care are Toothbrush, Toothpaste, Tongue Scraper, Dental Floss, Mouthwash and who can forget a pack of mint strips to bring out that extra minty freshness in your breath.
SALT :
As salt is an antibacterial as it dehydrates cells. Salt is often found in small sachets at restaurants. Take a packet and mix it with warm water and gargle this solution after eating. It would leave freshness in your mouth.
BAKING SODA :
Baking soda can be made use of as an alternate for toothpaste and can be mixed with water and be used as a mouthwash as well. Baking soda stops foul breath by acting as a natural cleanser and it also decreases the pH level inside the mouth creating a hostile environment for the odor causing bacteria. It works even better if used in combination with salt.
RUB YOUR TEETH:
If you go a while without brushing, a layer of plaque will start to coat your teeth. What you can do is while in a bathroom take a piece of towel or tissue and use this to rub your teeth. Rinse your mouth after you're finished. This should make your teeth smoother and cleaner.
There are also various herbs and foods that, helps in cleaning the mouth and promote fresh breath.
Mint leaves, Cloves, Sunflower seeds, Cardamom, Basil, Parsley, Sugar-free gum, mints, breath strips etc. Also, apples and sucking on a lemon wedge or drinking lemon juice will help eradicate the bacteria in your mouth and remove unpleasant odors from strongly flavored foods such as garlic or onions.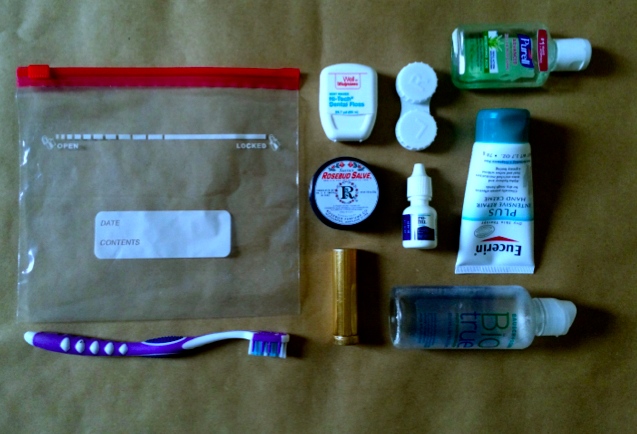 Here are a few ways to keep your mouth clean and healthy while you're out and about:
KAAP IT DRY:
if you're staying at one place, give your toothbrush a vacation from your travel bag. Leave your toothbrush out in order to let it dry out properly. This will help assure it doesn't become a nesting ground for bacteria.
PACK A SPARE:
losing a toothbrush on a trip isn't that rare, and often, those provided by the hotel are too firm for your gums. Pack an extra so you're always covered.
DRINK ALOT OF WATER:
Keeping your mouth moist is a great way to prevent foul breath or halitosis. Drinking water throughout the day helps in keeping your mouth moist, If you don't have an access to a drinking water where you are, then be sure to bring a bottle with you. Also rinsing your mouth with water is vital after eating.
If you're traveling somewhere and can't drink the tap water, then don't use it to brush your teeth either. Use bottled water instead.
GUM UP:
Traveling could sometimes mean waiting longer than you'd like to brush your teeth. Keep your mouth clean and fresh by using sugar-free chewing gums after eating. Herbal tea also serves the purpose of protecting your teeth.
VISIT YOUR DENTIST:
Make sure that you Visit your dentist for professional counseling and checkups to maintain a healthy and refreshing smile prior and subsequent to your travel.
and If you are based in united arab emirates in Dubai don't forget to Visit the DentalSPA Dr. amber offers great advice on how to take care of your oral hygiene even when you don't have the luxury of your own bathroom. As one of the leading Dentists in Dubai with an experience of more than 20 years, he'll make all your worries vanish into thin air.
🙂 P.S  STAY HEALTHY STAY BLESSED 🙂