smile is one of the most important and first things that people notice about someone. A beautiful smile can change everything, but it isn't achieved overnight, it takes a variety of methods to help create and maintain. Here are easy tips to help improve the appearance of your teeth and smile                         
Floss daily
 Dental flossing is very important and key step to get beautiful smile, flossing removes plaques and food stuck between the teeth and gum line where a tooth brush cant reach, flossing prevent tooth decay, gum disease, bone destruction and early tooth loss. Floss daily specially before going to bed, there are different types of dental floss available in different sizes, ask your dentist which one is suitable for you
Brush your teeth twice a day:
 Many people still need to be reminded to brush their teeth at least twice a day. Because plaque and food deposit can harden into tartar, and lead to tooth decay and gum diseases, frequent brushing allows the teeth to stay cleaner, whiter and healthier than in people who brush infrequently.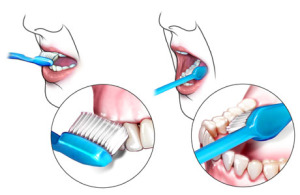 How you brush is also important. Angle the bristles toward the gumline at a 45-degree angle, with just enough pressure to cause the tissue to blanch. Gently make small strokes, focusing on only one or two teeth at a time. Use tooth brush with soft bristle, and don't apply too much pressure,
Drink plenty of water:       
     Water is most healthiest drink for your body and even for your smile, water flushes and clean teeth and discourage tooth decay and bad mouth odors, water with adequate dose of fluoride promote tooth health and prevent tooth decay, tap water is the best choice as it has the recommended dosage of fluoride.
Avoid consumption of acidic, sugary, sport and aerated drinks, because they increase the decay rate dramatically and they are not healthy.
Routine dental checkup / Visit your dentist twice a year;
Having routine cleanings every six months helps to promote good oral health as well as a beautiful smile. When cleanings are irregular, periodontal disease can develop. While this can cause unsightly swollen, receding and bleeding gums, and bad mouth odor
Regular screening of other health condition:
Health Conditions such as high blood pressure, diabetes, obesity, cancer and bruxism can all affect the health and appearance of your smile. Because many health conditions manifest themselves in the mouth, your dentist and hygienist can make you aware of systemic issues that you should follow up on with your doctor. When the body is strained due to one health condition, it makes it more difficult to treat another.
 Limit your tea, coffee , red wine and alcohol:  
 Drinks like coffee, tea and red wine are known for causing stain to the teeth. Similar to smoking, the stain from these drinks can buildup a superficial stain that your dentist or hygienist can polish off, but it can also cause internal staining of the tooth enamel as well.
Drinking through a straw can help reduce the amount of stain on your teeth and may also help reduce the risk of tooth decay. It can also help to rinse your mouth frequently with water so that the dark liquid does not sit on your teeth for a long period between meals.
Avoid smoking: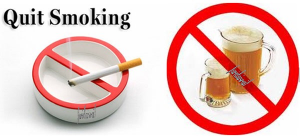 Smoking causes staining to the teeth and gums, the stain from smoke is sometimes a superficial stain that can be polished off, but it can also soak deep into the enamel, and lead to tooth sensitivity, decay and aggravate other periodontal and gum disease,
Rather than covering up symptoms, attempt to improve your health through preventative methods. Eating right and getting enough exercise can dramatically improve the appearance of your body, skin, teeth, and gums. 
P.S STAY HEALTHY STAY BLESSED