You eat healthy, and you have healthy lifestyle? Really think again, eating healthy or having healthy lifestyle doesn't mean you are having all nutrients require for your body, unfortunately despite how healthy u eat and your life style is, every woman, I am not joking (80%-90% according to research) needs vitamins /multivitamins.
Healthy eating remains the best source of vitamins, and minerals. But a lot of essential nutrients are missing in our diet.
"If your diet eliminates whole food groups or you don't eat enough variety of foods, you would benefit from daily multivitamin.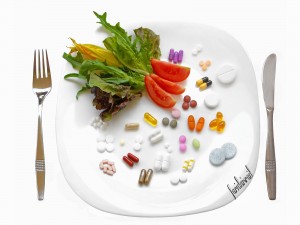 A multivitamin is not a substitute for healthy food or a healthy lifestyle, but it can provide a nutritional backup for a less-than-ideal diet.
Every Woman have special nutritional requirements, Their multivitamins should have adequate folic acid, calcium, iron, vitamin D, potassium, magnesium, dietary fiber and antioxidant.
 These are essential vitamins with proper dose………
Vit_A: it boost immune system, improve vision, cuts risk of heart disease and may slow skin ageing, It is also good for preventing macular degeneration and cataracts, and as a carotenoid, it also helps improve the health of your hair. DOSE: 2,000 to 2,300 IU
 Vit_B: vita B complex helps and maintain metabolism, help in muscle toning, In young women B9 (folic acid) is most important keeps blood cell health and guards against cancer and birth defects.       DOSE: 400 to 600 mcg
Vit_C: (ascorbic acid), it boost immune system and most powerful antioxidant for skin ageing, wrinkles, prevent heart disease and its use as cold fighter, it help in wound healing. DOSE: 40 to 180mg per day (dose depend on age and requirement)
(** I recommend to take minimum 500mg of vit c daily, you can take 1000 mg for few days to fight against cold (it really works) or post your workout and training (recommended by most of bodybuilder)
 Vit_D: it is consider wonder drugs, it reduces risk of breast cancer by 50% and it may offer protection from ovarian cancer and dibetes.it helps in depression and heart disease, human body itself makes Vit_D when it is expose to sun, and most of us avoid direct sun light hence u need to take it as a supplements.   DOSE; 1,000 t0 2,000 IU
Calcium: its crucial for strong bone, especially for women, it reduces the risk of osteoporosis, and high blood pressure. Might reduce symptom of PMS and help weight loss, vit-D aids in calcium absorption, so look for supplement that combine the two or be sure to take your vit-D and calcium together.Recommended Dose; 1000 mg daily
Iron: it strength immunity and improve memory. Iron is important for woman with heavy periods. Too little can spell anemia.                                                                                                                                              Dose; 18mg daily
TIPS: Go for good brands of multivitamins which has all essential vitamins, there are a lot of multivitamin available in market, specially designed for every women need, and contain all essential vitamins, they are available in soft gel, pills or capsules,
I personally prefer multivitamins to vitamin, you can take calcium and vitamin c separately as their dose in most of multivitamin are less
Benefit of multivitamins;
Deficiency of any of these vitamins can result in illness and many other serious health complications. 
Multivitamin supplements can also help to reduce stress. improve memory and boost immune system
it can help in improving physical and mental health. It helps to improve general bodily functions and promotes overall well being.
Multivitamin supplements also help to deal with old age, smoking, alcoholism and many other conditions.
It can also lower chances of transmission of malnutrition from the mother to the baby
Is it safe? are there any side effect?
Yes it's a multivitamin. It contains the vitamins and minerals the human body is meant to consume each day for optimal health and function. Obviously its safe if you are taking right brand that provide require amount of vitamins and minerals for your specific need. multivitamin is one of the safest supplements, but its always good and safe to consult your doctor .
 Why multivitamins are better then vitamin?
A multivitamin saves you money compared with buying dozens of individual bottles,
The nutrients will work better as a team.
It's easy to take one pill of multivitamin then many vitamins separately
The consumption of multivitamin supplements can help prevent deficiencies of both, vitamins and minerals.
And remember, vitamins can't replace a healthy diet, but they can help to compensate for what you're missing in diet—and give you peace of mind and protect you against future complication
P.S Stay healthy stay blessed