Dental veneers and lumineers are latest new trend in smile designing, and smile makeover. Before you wonder what is smile designing or smile makeover?? Let me explain smile designing and make over is nothing but correcting and getting brand new beautiful smile, (Hollywood smile), its like buying new pair of branded clothes and shoes.
 So Do you want to" turn back the clock "on your smile? Do you want your teeth to look brighter, whiter and more youthful? if so dental veneers and lumineers can do wonders to your smile and make you look 10 to 15 years younger. As they say smile is most powerful weapon 🙂 yes my friends indeed it is. Imagine yourself with that amazing brand new beautiful smile 🙂  
Here in this article i have put basic details about veneers and lumineers and how veneers are different from lumineers ? in very simple way so you all can understand. if any query you can contact me, Thanks X
WHAT IS VENEER? Dental Veneers are wafer thin shells of porcelain material permanently bonded on front surface of teeth that are discoloured, worn, chipped or misaligned, to improve the appearance of tooth and to protect tooth from further damage.Veneer can be used for single tooth to cover the defect or for multiple teeth to get desired smile
Before placing veneers tooth must be shaped, a thin layer (approximately 0.5 mm) of the natural tooth structure is removed to allow space for placement of veneers.
When it is firmly bonded to a sturdy substructure (like a tooth) it becomes very strong and durable.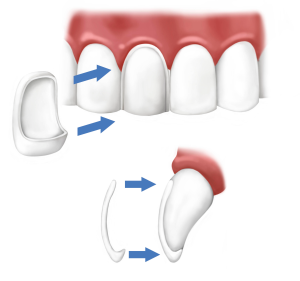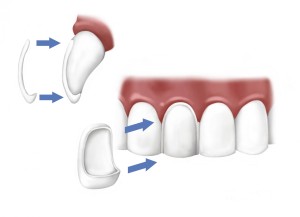 What is lumineers?  and how veneers are different from lumineers?
Lumineers are brand of porcelain veneers. Lumineers are different than a traditional veneer in the way they are manufactured and placed.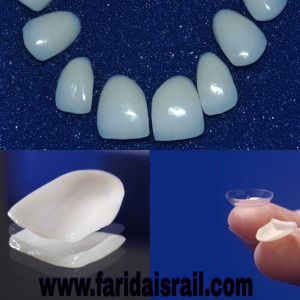 Lumineers are unique in that they are ultra thin as a contact lens and ultra translucent. and placed over existing teeth without having to remove tooth structure. (**No tooth reduction)
    while traditional porcelain veneers are much thicker, requiring the grinding and reduction of your natural tooth.
   Lumineers restorations are so thin and provide excellent cosmetic solution for stained, chipped, discolored, or misaligned teeth.so in most cases, you will get a perfect fit without shots, needles, or grinding down of the original tooth structure. 
 (**Here I want to clear one more thing, tooth reduction required for veneer /lumineer placement are totally depends on person to person and how your teeth are aligned, if you have crowded, misaligned, chipped or broken tooth your dentist will decide what is right treatment of choice(veneers or lumineers), so consult specialist to get better and perfect result)
PROCEDURE: Procedure is very simple and usually requires 3 to 4 easy trips to the dentist – one for a consultation and two to make and apply the veneers and last for follow-up. Here is the detail of veneer procedure:
Diagnosis and treatment planning: In your first Visit to dentist, explain the Dentist what result you trying to achieve & what is your expectation from veneers (desired color, shape), after that Dentist will examine the teeth to make sure you can receive veneers,
Preparation of tooth: After examination dentist will prepare the teeth to receive veneers, dentist will remove 0.5 mm enamel from tooth surface which is equivalent to thickness of veneers to be bonded on tooth. After preparation dentist will take measurement of teeth and send it to laboratory. And also show you the shade guide to choose right shade for your veneers.
Bonding of veneers: in your last visit to dentist Before the dental veneer is permanently cemented to your tooth, your dentist will temporarily place it on your tooth to examine its fit and color. Veneer color can be adjusted with shade of cement to be used. your veneers are not placed until you Love the colour.
Follow-up: Your dentist may ask you to return for a follow-up visit in a couple of weeks to check how your gums are responding to the presence of your veneer and to once again examine the veneer's placement.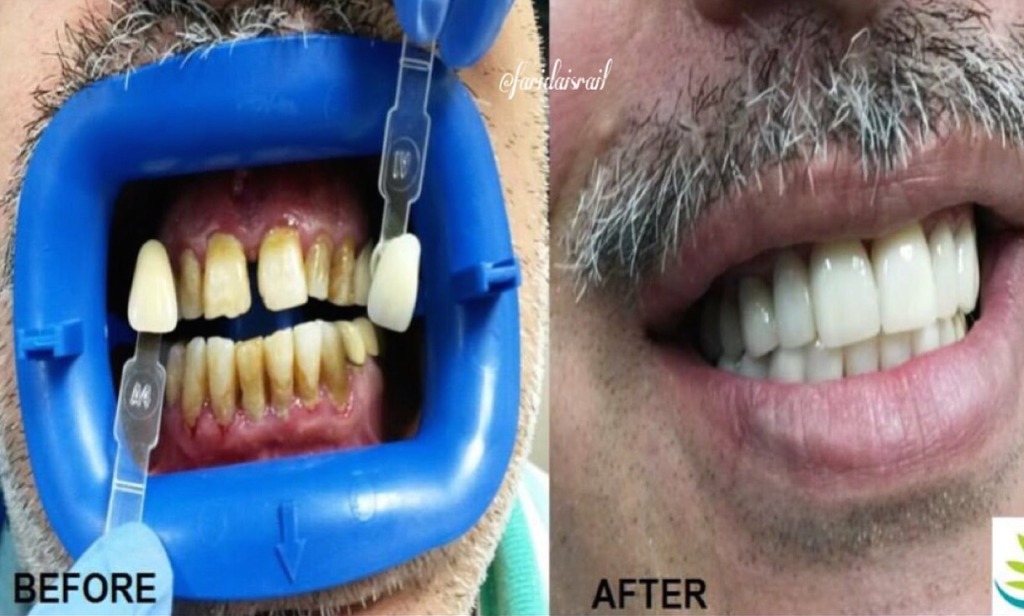 ADVANTAGES OF VENEERS:
Realistic appearance: major advantage of veneers are its natural look. When bounded on tooth surface its translucency effect provide life like appearance and mimic natural tooth.
Resistance to stain: ceramic and porcelain veneer are very porous they will not stain.
No damage: They are resilient and non-abrasive to opposing tooth
Dental veneer can straighten, lengthen tooth & they can be used to whiten teeth to provide a beautiful Hollywood smile. (Smile designing)
Can be used to cover over and conceal tooth fillings that have become stained or discolored.
They can be used to close the space "Diastema" between a person's teeth. 
They can be used to create an instant orthodontics effect. Or as an alternative to orthodontic treatment.
Can be used to repair minor imperfections and defect, like small fracture, chipped, worn, and discolouration of tooth.

 Disadvantage of veneers: Downside of veneer's are:
The process of veneers is not reversible since it requires tooth reduction. (Lumineers doesn't require the removal of tooth structure, they can be removed if circumstances require it.)
Veneers/lumineers are not repairable should they chip or crack.
Veneers may not exactly match the color of your other teeth. Also, the veneer's color cannot be altered once in place. If you plan on whitening your teeth, you need to do so before getting veneers.
Though not likely, veneers can dislodge and fall off. To minimize the chance of this occurring, do not bite your nails; chew on pencils, ice, or other hard objects, or otherwise put excessive pressure on your teeth.
ARE YOU AN IDEAL CANDIDATE?An ideal candidate for veneers / lumineers must have enough remaining tooth surface on which to bond the veneers/lumineers to ensure long-term results.  Since lumineers do not require the removal of tooth structure, they can be removed if circumstances require it.
Individuals who clench and grind their teeth are poor candidates for porcelain veneers, as these activities can cause the veneers to crack or chip.
HOW LONG VENEERS LAST?Generally veneers last between 5 to 10 years depending on cases. but clinical studies have proven that it can last and look great over 15 to 20 years. most of company offers warranty and replace at no cost
DO VENEERS REQUIRE SPECIAL CARE?Dental veneers do not require any special care. Continue to follow good oral hygiene practices, including brushing and flossing as you normally would.
🙂 P.S smile is prettiest thing you can wear keep smiling 🙂